White Dove Release For Weddings and Funerals South Florida
We release pure White Doves at events such as Weddings, Funerals, Birthdays, Grand Openings, Memorials and more. We serve South Florida from Jupiter to Miami.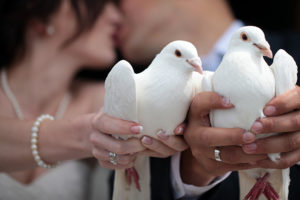 We guarantee that we will always arrive on time and be dressed professionally.
We understand the importance and meaning of your event and strive to positively accent your occasion. We are limited by daylight hours and the weather. We offer refunds for uncontrollable weather.
We love our birds and give them the best of care. They live in a spacious bird loft in our Pompano Beach back yard. The birds are fed a diet of seed twice daily, fresh water daily, Vitamins and Probiotics.
Our birds are clean, healthy and free from insects and diseases. These birds are bred and raised by us. No harm comes to these beautiful white doves in the participation of your ceremony.
Dove Poetry
Poetry is offered for special events. We will email you some samples and you choose the perfect poem. We have poetry for Weddings, Birthdays, Funerals, Anniversaries and Memorials. The poem is read before the doves are released.
History of the Dove
The White dove, symbolic of Peace, Unity, Love, Fidelity, and Faith. White is the color of purity as with the brides gown. The White dove is the symbol of peacefulness. Noah released a dove from the ark to find land after the flood and the dove returned home. The dove returned to Noah with a green olive branch. Today, the picture of this dove with an olive branch in his mouth is the universal picture of peace. The white dove was a means of making peace with God for the ancient Jewish people. For Christians, The Holy Spirit is represented by the form of a dove. In ancient Greek mythology, ambrosia was brought to the gods in Olympus by the doves.
The white dove will find a mate and stay with this mate for life. The mournful cry of a white doves gives the impression he is sad and lonely but the fact is they will sound their mournful cry only when they are content, unlike most birds, The two white doves will share in the rearing of eggs and the young . The father dove will care for the young until they are able to live on their own. Most birds leave the female to do all of the work. These facts about the doves are why they are so endearing to us.
Doves Return Home After Release
Our birds are white homing pigeons (from the Rock Dove Family)and are specially trained to return home after being released. They must be able to get home the same day for their own safety. Our birds do not fly at night and must be released with enough daylight to fly home.
White Doves : A Wonderful Affordable Memorable Gift
Family and friends can give a dove release to the family of the deceased.
This time of mourning can be a difficult time, and trying to find a way to express your sympathy can be equally difficult.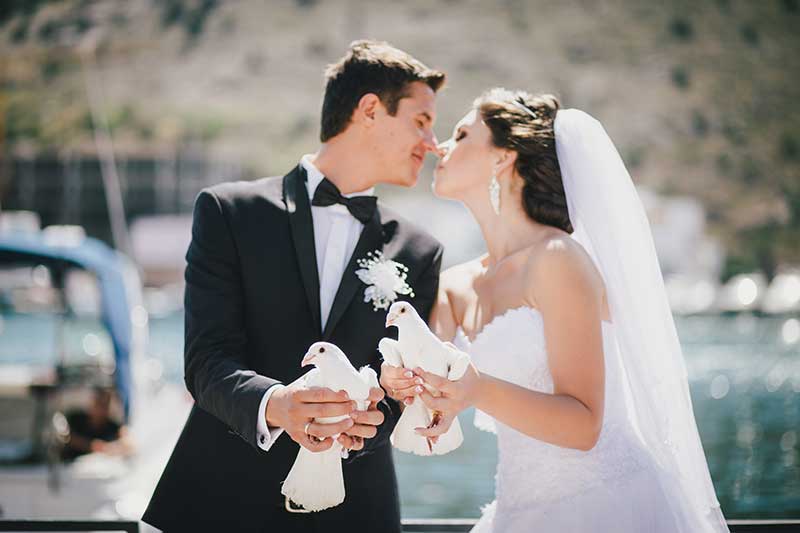 Kim's Dove Release creates a special breathtaking experience that will lift the spirits and be remembered by all in attendance.
White doves have long been a symbol of love, fidelity, and peace. A professionally coordinated White Dove Release is the perfect and unique way to incorporate this symbolism into your wedding ceremony.
Whether you choose two doves, representing the unity of life's journey, or the grandeur of a white flock release, it is sure to be an unforgettable addition to your special day.
A White Dove Release is the perfect gift idea for that special bride and groom!
We provide service to Broward, Dade and Palm Beach County cities of Miami, West Palm Beach, Boca Raton, Fort Lauderdale, Boynton Beach, Deerfield Beach, Weston, Lake Worth, Hollywood Beach, Hallandale, Plantation and every city in the y area.